Mayors, District and other community leaders across West Vancouver, Sunshine Coast, and the Sea to Sky Corridor gathered to discuss abandoned and derelict vessels in response to a meeting organized by MP John Weston (West Vancouver – Sunshine Coast – Sea to Sky Country) at the Lawson Creek Studio in West Vancouver.
As a coastal community, the issue of abandoned vessels is more important to this constituency than for most other areas in Canada. The waterways that surround these communities provide one of the most effective modes of transportation in Canada as well as contribute to the vast beauty and tourism for which the area is known. Among the leaders present at the meeting were Mayors Karl Buhr of Lions Bay and Wayne Rowe of Gibsons; Councillors Alice Lutes of the District of Sechelt and Alison Morse of Bowen Island; Kate-Louise Stamford, a trustee on the Islands Trust; and Katherine Folinsbee representing officials at the District of Squamish.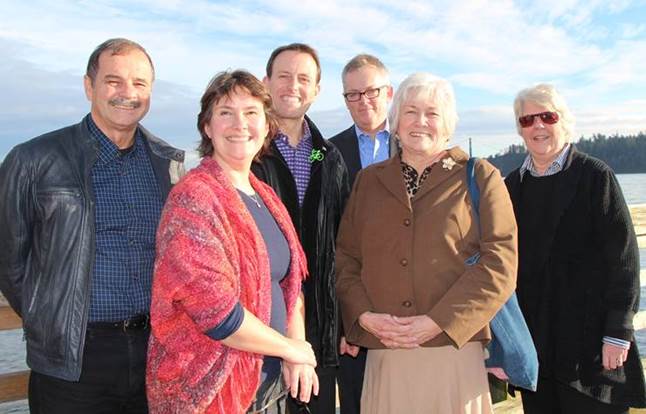 (L-R) Mayor Wayne Rowe of Gibsons, Island Trust Trustee Kate-Louise Stamford, MP John Weston,  Mayor Karl Buhr of Lions Bay, and Councillors Alice Lutes of the District of Sechelt and Alison Morse of Bowen Island. Location: Ambleside.
Given the overlap of the many levels of government involved, and that of the different departments within each level, good communication and collaboration is essential to progress on this issue. A working group was formed that will allow for a more targeted approach to find concrete solutions to address the current situation.
"I very much appreciate Member of Parliament John Weston's efforts to work with local communities to try to find a solution to this problem of derelict and abandoned vessels", said Rowe.
Morse added that she was "pleased to see that we're going to work towards a solution to find innovative sources for funding to help solve the problem of what to do when a vessel is at the end of its life".
Weston concluded that "the meeting today provided an essential forum for the leaders from various levels of government to work together to ensure Canada's waterways provide safe navigation to marine vessels, and are free of derelict vessels."