It's been a fan favourite for over 25 years on Broadway and now it's coming to Vancouver.
– – – – –
reprinted from Broadway Across Canada
Show Dates Nov. 3-8, 2009 – The Centre in Vancouver for Performing Arts
Tickets start at $59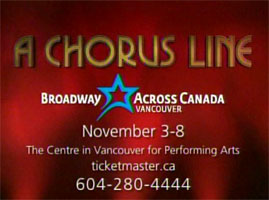 In an empty theatre, on a bare stage, casting for a new Broadway musical is almost complete. For 17 dancers, this audition is the chance of a lifetime. It's what they've worked for -with every drop of sweat, every hour of training, every day of their lives. It's the one opportunity to do what they've always dreamed — to have the chance to dance. This is A Chorus Line, the musical for everyone who's ever had a dream and put it all on the line. Winner of nine Tony Awards, including "Best Musical" and the Pulitzer Prize for drama, this singular sensation is the longest-running American Broadway musical ever. Now A Chorus Line returns. Come meet the new generation of Broadway's best. "A Chorus Line is back, and it's thrilling!" – John Lahr, The New Yorker.
The National tour cast currently features Clyde Alves (Mike), Amos Wolff (Roy), Dena DiGiacinto (Bebe), Liza Domingo (Connie), Mindy Dougherty (Val), Joey Dudding (Paul), Emily Fletcher (Sheila), Michael Gruber(Zach), Derek Hanson (Don), Hollie Howard (Maggie), David Hull (Mark), Jordan Fife Hunt (Frank), Robyn Hurder (Cassie), Julie Kotarides (Vicki), Jessica Latshaw (Kristine), Ian Liberto (Bobby), Sterling Masters (Lois), Stephanie Martignetti (Tricia), Bethany Moore (Judy), Colt Prattes (Al), Rebecca Riker (Diana), Alex Ringler (Greg), Clifton Samuels (Tom), Brandon Tyler (Larry), Anthony Wayne (Richie), J.R. Whittington (Butch) and swing performers Deanna Aguinaga, Venny Carranza, Erica Mansfield and Shane Rhoades.
A CHORUS LINE reclaimed its place in the heart of Broadway at the Gerald Schoenfeld Theatre (236 W 45thSt) where it opened to rave reviews on October 5, 2006.  Elysa Gardner of USA Today calls it "Exhilaratingand endearing, it still has a freshness and fervency too seldom seen in contemporary musicals," while The New York Daily News exclaims "There's nothing better! The show thrills from the opening number to theglittering finale," and Jeffrey Lyons of WNBC TV hails it "An American Masterpiece.   A show for the ages."  A CHORUS LINE is directed by its original Tony Award winning co-choreographer Bob Avian and is produced by John F. Breglio for Vienna Waits Productions.
A CHORUS LINE recouped its entire $8 million investment after only 157 performances (19 weeks) on Broadway.  It broke the theatre's box office record 7 times in its first 5 months.  A CHORUS LINE ended its Broadway run on August 17, 2008 after 18 preview and 759 regular performances.
A CHORUS LINE, conceived and originally choreographed and directed by Michael Bennett, features a book by James Kirkwood and Nicholas Dante, music by Marvin Hamlisch and lyrics by Edward Kleban. For this new production, Baayork Lee re-stages the original choreography.
The new production features scenery by Robin Wagner, costumes by Theoni V. Aldredge, lighting byTharon Musser adapted by Natasha Katz and sound by Acme Sound Partners.  Musical supervision is byPatrick Vaccariello with musical direction by John C. O'Neill, orchestrations are by Jonathan Tunick, Billy Byers and Hershy Kay and vocal arrangements are by Don Pippin.  The new 2006 Broadway cast recording of A CHORUS LINE was released by Masterworks Broadway and is available in stores nationwide.
The original production of A CHORUS LINE opened at the Public Theater's Newman Theatre on May 21, 1975and transferred to Broadway's Shubert Theatre on July 25th, opening there on October 19th of that year.  It won the Pulitzer Prize for Drama, nine Tony Awards, including Best Musical, Score and Book, and the New York Drama Critics Circle Award.  It ran for nearly 15 years, closing on April 28, 1990 after 6,137 performances.  A CHORUS LINE remains the longest-running American musical in Broadway history.