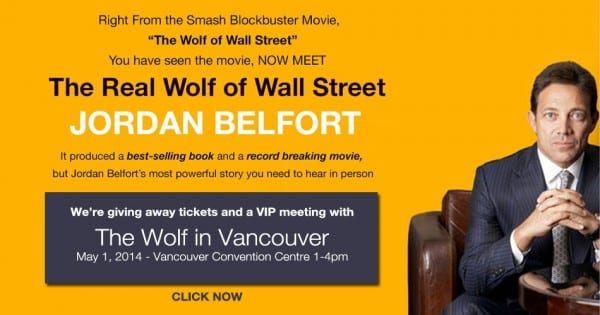 WestVancouver.com, in cooperation with the Soho Business Group, are giving you a chance to go and see the real Wolf of Wall Street – Jordan Belfort – here in Vancouver on May 1, 2014 at the Vancouver Convention Centre. Scroll down to see how you can enter to win two tickets in our giveaway.
Plus, as an added bonus, we're giving one lucky ticket buyer a chance to go backstage and meet Jordan Belfort in person at the exclusive pre-show meet and greet event. You'll also be sitting in the front rows for the three hour show which, we're also told, may include a very special (and famous) guest star appearance. Scroll down for more.
Leonardo DiCaprio played him in the movie version which was all about the sex, drugs and rock and roll lifestyle of stock traders in the late 80s and early 90s. Jordan Belfort, the real man, has since revamped his image and now even advocates a much more ethical lifestyle. A born super salesman, he now coaches people in the ways of persuasion and is again a rising star thanks to the recent blockbuster and Oscar nominated film.
– – – –
BUY YOUR TICKETS HERE – AND YOU'LL BE AUTOMATICALLY ENTERED FOR A VIP MEET AND GREET WITH JORDAN BELFORT

For those who want to purchase tickets right away, we're offering you a special discount ticket price of $117 (instead of $137)
PLUS, every ticket sold using this special discount code will automatically be entered into our draw to win an exclusive VIP ticket upgrade complete with PRE-SHOW MEET AND GREET with Jordan Belfort and special up-close seating (Rows 1-3) for the event – a value of $795.
CLICK HERE AND USE CODE "WOLF23" in the "Promotional Code" field at checkout. Good luck!
– – – –
Watch a few of the videos below to see Leonardo DiCaprio describe Belfort. Also included, a rare behind the scenes look at director Martin Scorsese filming The Wolf of Wall Street.