Visiting West Vancouver? Then you'll want to know these helpful hints to plan your trip. We've also included some links for hotels, attractions and transportation –  and some fun facts that we bet you didn't know.
Tourism links and categories
West Vancouver is one of Canada's wealthiest and most picturesque communities. Located minutes from downtown Vancouver, across the Burrard Inlet waterway, it is often compared to 'Beverly Hills' with its spectacular view properties, grand gated mansions and celebrity citizens. 
Once a quiet enclave full of quaint mountainside cabins, today it is a tony beachfront resort-style municipality with parks, shopping and outdoor activities for all. Waterfront restaurants, beaches, ski hills, hiking and biking trails and views that stretch all the way from downtown Vancouver to Vancouver Island – it is beautiful in every way. 
Take a stroll on the West Vancouver seawalk to appreciate life on the water's edge and see eagles, seals, waterfowl and yes, even cruise ships as they sail past to Alaska during the summer season. West Vancouver is also home to Hollyburn Country Club, West Vancouver Yacht Club, Eagle Harbour Yacht Club and the prestigious Capilano Golf and Country Club. 
Small villages also add to West Vancouver's charm within the neighbourhoods of Ambleside, Dundarave, Caulfeild and Horseshoe Bay. Park Royal Shopping Centre is a transportation hub and the place to go for fashion, fun and flavours. And with a thriving arts community, you'll also find galleries, community centres and the Kay Meek Theatre. 
You can get to West Vancouver via the world-famous Lions Gate Bridge and the causeway which winds its way through the middle of the city's spectacular crown jewel – Stanley Park. Built by the Guiness family (yes, of the Guiness Brewing Company fame), the Lions Gate Bridge will take you over the Burrard Inlet waterway and up onto the highway that leads to the first developed area known as the British Properties. This is also the highway to travel to the Horseshoe Bay ferry terminal (which takes you to Vancouver Island, Nanaimo, Gibsons and Bowen Island) – and, if you keep travelling north, to the ski resort town of Whistler, BC. 
West Vancouver, The West End or Vancouver's West Side?
Confused – don't be. Even locals get it mixed up once in a while. Around town you'll find several references to 'West Vancouver' – and sometimes they can mean different things. But there's only one true West Vancouver, and it is here. This is the municipality of the District of West Vancouver – and not only do we have our own mayor and council, but we have our own police force, fire department and even 'blue bus' transit service. We are part of the Greater Vancouver Regional District, but not the City of Vancouver. 
The other two references to 'West Vancouver' are sometimes in reference to the 'West End' of Vancouver, (which is located downtown and bordered by Denman and Davie streets and includes English Bay, Davie Village and Beach Ave) and/or the 'West Side' (which is 'west' of downtown Vancouver and includes the Kitsilano, Kerrisdale and Point Grey areas near the University of British Columbia). Both of these areas are part of the City of Vancouver and are under that jurisdiction when it comes to governments or municipal services. And yes, they are totally fun with their own beaches and street life – and completely worth visiting.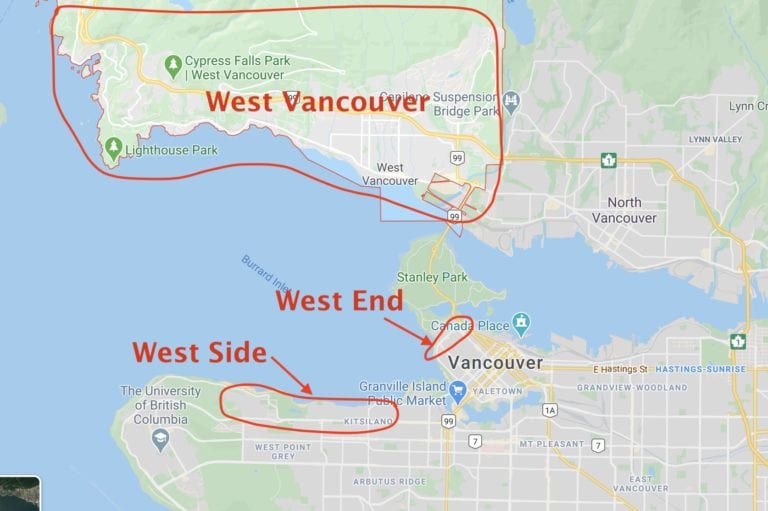 Does West Vancouver Have a Hotel?
Yes it does – but it's more of a travellers motor inn way out west by the Horseshoe Bay ferry terminal.  But when it comes to major hotels, you really don't have to look, or travel, that far. 
Thanks to its close approximation to downtown Vancouver (less than 6 km or 4 miles away), the best hotels in the world are minutes from our doorstep. Choose from a selection of waterfront hotels or five-star service at any one of the best brands – Westin, Fairmont, Hyatt and more. Don't let the fact that you have to cross a bridge deter you – West Vancouver is close to all the action.
Also for those looking to be even closer, North Vancouver's 'motel row' is located just next door (3 km or 2 miles away) and is en route to many major outdoor attractions, like Grouse Mountain, hiking trails and nature walks. 
Take a look at our hotel rooms here – and book your trip today.