West Vancouver's 20th Annual Arts Festival by the Sea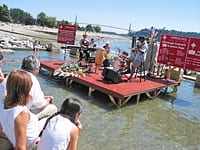 All of West Vancouver salutes the artistic talent, volunteers, and our staff that are Harmony Arts Festival, which celebrates 20 years of bliss at the beach this summer.
There will be an unprecedented 82 performances this year, and we are pleased to introduce a new attraction, an intimate wine garden on the lawn at the foot of 15th Street, at the Garden Stage.
The arts scene continues to thrive along the waterfront. Please plan to enjoy West Van at its very best this summer – in celebration of Harmony Arts.
The 20th Annual Harmony Arts Festival brings programs, events and concerts along the West Vancouver's waterfront — all free of charge!
Getting to the Harmony Arts Festival:
Public transit is the most convenient way to reach the festival. West Vancouver Blue Buses, operating under contract to TransLink, provide transit connections to West Vancouver from downtown Vancouver, UBC, Lions Bay, North Vancouver and Park Royal Mall. Several routes pass through the Ambleside/Dundarave area, and passengers can disembark anywhere along Marine Drive between 13th and 17th Streets (Ambleside). See the bus schedule for details.
To travel to West Vancouver from downtown Vancouver, take the Lions Gate Bridge and exit west along Marine Drive. Travel past the Park Royal Shopping center and turn left at 13th Street to enter Ambleside Park. The Information Booth is located at the foot of 14th Street.
Visitors arriving from both east and west along the Upper Levels Highway, should take the 15th Street turnoff and travel south (down the hill) to Bellevue Avenue. Turn left onto Bellevue and enter Ambleside Park at the foot of 13th Street. Street parking is also available.
Venue Addresses & Information
Ambleside Landing
14th Street at Argyle Avenue, West Vancouver
Delany's Dundarave
2424 Marine Drive, West Vancouver, BC V7V 1L1
Open 7 days a week; early to 8:30 pm
Delany's Park Royal
815 Main Street, Park Royal Village, West Vancouver, BC V7T 2Z3
Monday – Friday: early to 8:30 pm
Saturday: early to 9:30 pm
Sunday: early to 8:30 pm
Ferry Building Gallery
1414 Argyle Avenue, West Vancouver, BC V7T 1C2
Phone: 604-925-7290 |gallery@westvancouver.ca | www.ferrybuildinggallery.com
John Lawson Park
16th Street at Argyle Avenue, West Vancouver
Millennium Park
15th Street at Argyle Avenue, West Vancouver
Silk Purse
1570 Argyle Avenue, West Vancouver, BC V7V 1A1
604-925-7292 |www.silkpurse.ca
Music Box, Upstairs Studio
1564 Argyle Avenue, West Vancouver, BC V7V 1A1
Daily: 10:00 am – 8:00 pm
West Vancouver Community Centre
2121 Marine Drive, West Vancouver, BC V7V 4Y2
West Vancouver Memorial Library
1950 Marine Drive, West Vancouver, BC V7V 1J8
Monday – Thursday: 10:00 am – 9:00 pm
Friday: 10:00 am – 6:00 pm
Saturday: 10:00 am – 5:00 pm
Closed Sundays
www.westvanlibrary.ca
West Vancouver Museum
680 17th Street (at Esquimalt), West Vancouver, BC V7V 3T2
Tel: 604-925-7295
westvancouvermuseum.ca