To say he can't get enough would be wrong. Because if you're lucky enough to meet him, it only takes two minutes to realize that Paul Rodgers is really about the music he loves – and the people and causes that are all part of his real life rock and roll fantasy.
I'll never forget the sound I heard coming from the television in the next room some 13 years ago. It was a live feature concert playing on one of those specialty music channels – but somehow, something was different.
There was the characteristic shuffle back beat, but there was also this smooth groove. There was the usual cranking and sometimes hectic guitar chords, but there was also easy rhythm. Then there was "the voice".
Ah, "the voice". Gravelly, yet sultry. Edgy, yet controlled. Solid. Clear. Sexy.
This is the unmistakable sound of Paul Rodgers and Bad Company. It's a winning combination that has helped write the history of rock and roll as we know it today.
And now, as the group heads out on a sold out tour as part of the band's 40th anniversary, it's clear Rodgers is still well on top of the beat, and maybe even on top of the world.
"I find time is a strange thing," says Rodgers as we chat over the phone from his home in British Columbia's Okanagan Valley. "It feels like it's going on forever, and then you snap your fingers and say 'where did the time go'"?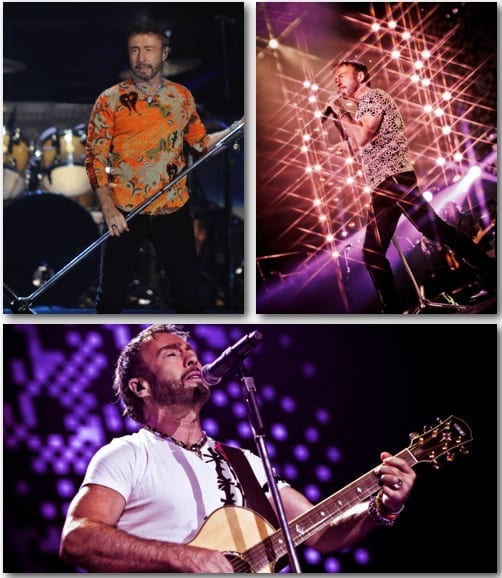 Suffice to say, talking in real life to "the voice" is distracting in all the best ways. I found myself listening to the lyrical quality just about as much as I found myself listening to the words.
And it's easy to be whisked away by it too when Rodgers tells stories of walking in Memphis among the stacks and memories of musical heroes like Otis Day, Wilson Pickett and Ann Peebles – all of whom he credits with inspiring both his sound, and his songwriting.
"When I was a kid searching for a way forward I discovered Otis Redding," he says. "There's a touch of gospel and soul and that I love."
Still, as a kid growing up in Britain, Rodgers couldn't help but be influenced by both the Beatles and the Rolling Stones whom he says helped set the trend towards everyone at that time becoming both a singer and a songwriter.
"I did notice that the strong bands were the bands with the original material. It was so important to have your own identity."
The music in his life seemed to flow from there. "Rock and Roll Fantasy", "Shooting Star", "Feel Like Making Love" – all of them hits and all of them securing Bad Company's position in history as an undeniable supergroup.
And as Rodger's rise through the ranks became inevitable, it was only a matter of time before other rock legends began to seek him out.
The names on the list are enough to make you drool with envy. Jimmy Page, Jeff Beck, Joe Perry, Joe Walsh, Brian May and Slash, to name but a few, have all played alongside and paid homage to the man who helped shape the landscape.
In fact, the late Freddie Mercury idolized Rodgers so much that he credits him as his main inspiration. Seems only fitting then that in 2004, Rodgers paired up with Queen on a tour that revived the best of their music and more.
Still, if Rodgers owes any band a favour, it might just be Lynyrd Skynyrd whom he says introduced him to the other love of his life – namely wife Cynthia Kereluk.
A former Miss Canada and expert fitness instructor, it only makes sense that in the end this leading man actually deserves to win the beautiful girl.
A lovely and stunningly kind person, Cynthia seems to complete Paul in many ways and gives him reasons beyond his fame to live freely and in peace.
Life at their house seems anything but boring and one can still accuse them of hanging out with the party animals, except this time they are the four-legged furry kind.
Together the couple is well-known for their philanthropy and generosity with a particular focus on animal rescue. They've helped fund a race horse sanctuary in the U.K., rescued abandoned cats from Mexico and even made appearances at the much heralded Willows Animal refuge in Scotland where they take in everything from horses to horseflies.
In fact, one of the few times Rodgers has ever been truly upstaged was by a shameless scene-stealing baby pig who, as he tells it, topples over like a drunken lout at the mere tickle of an ear.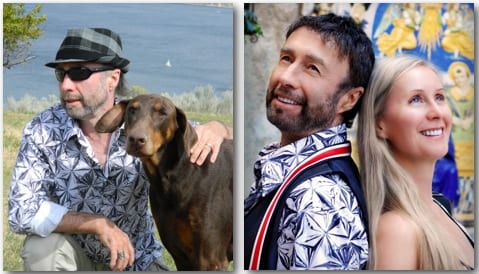 Back home here in British Columbia, Paul and Cynthia have quietly helped set up the local Critter Aid society so that it can operate rent free in a building they bought nearby. And as expected, they share their lakeside estate home with a soft-hearted Doberman, a goat named Amazing Grace and probably too many cats to count.
"I'm just lucky that I have an amazing husband who lets me have all these animals," says Cynthia playfully as Paul reluctantly, but jokingly, hums in agreement in the background.
"It's so nice to get to a point in life when you can turn around and give something back," says Rodgers. "I do think it comes back to you. Whatever you put out, it does come back."
And if a come back of sorts is in the cards, it may just be with the release of his newest album early next year.
Rumoured to be entitled "The Royale Session", this new tribute album was recorded in Memphis among the spirits of those who helped him learn to love the blues.
"I'm honouring those people and that music," Rodgers says. "Those gentlemen of soul who welcomed me with open arms."
Ironically, the whole album was recorded in analogue in an effort to preserve a special kind of sound quality. Only the last stage was digital he claims recognizing that while you can't stop progress, sometimes the old ways are still the best.
And if anyone knows anything about sound quality, it's Paul Rodgers. To this day he still makes it look, and sound, easy.
As for "the voice" – well he says he was just lucky to be born with it. In return, he looks after his instrument with great care. That means no alcohol, lots of hydration and lots of humidity. Controlling the environment is the hardest part. "I'd take a humidifier on stage with me if I could," he says only partly kidding.
But kidding aside, it's been a hell of a ride. And now, as a dual citizen of both the U.K. and Canada, he realizes the dream has become a reality and he takes none of it for granted.
"It's amazing really. When I set out everyone said this wouldn't last. Every authority figure told us to have something to fall back on," he reveals. "I said 'I don't care, I'm doing this, I love this' – and I still love it today."
By Catherine Barr – CatherineBarr.com
– –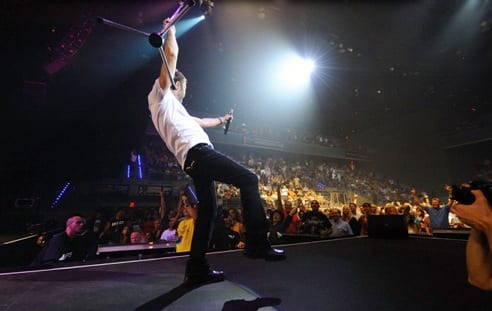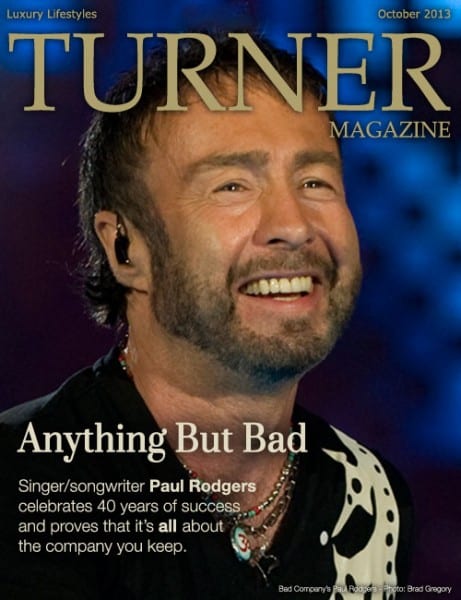 Turner Magazine Cover – Paul Rodgers of Bad Company – Photo: Brad Gregory
 Paul Rodgers and Bad Company perform tonight at the Red Robinson show theatre at the Boulevard Casino in Coquitlam.