West Vancouver may have a reputation for being stylish and serene, but an exciting new food revolution is afoot with the arrival of some trendy new gourmet food outlets which are betting that this wealthy waterfront community might just be in the mood for a change.
Last week marked the arrival of the newest player to the fashionable foodie game with the opening of Fresh St. Market. Owned and operated by HY Louie, proprietors of London Air, London Drugs and IGA, this new venture represents a dramatic departure from the norm.
Built on the site of the old Safeway store at 1650 Marine Drive, the building was originally going to be redeveloped into a proposed mixed-use condo and commercial project. When this idea was rejected by West Vancouver's municipal hall, the opportunity for something new opened up.
Large and airy, with well defined spaces, the store's specialty sections are a food lover's dream come true. Rare fruits and vegetables are easy to find here as are pre-chopped and cubed soup recipes where all you need to add is your own stock and extras.
An exotic pepper bar includes everything from the mild mannered to the scary hot, and hard to handle, ghost pepper. Wear gloves for this one and be sure to consult the overhead guide which will show you just how much heat you're in for.
Other unique touches include the bakery where you can not only see the ovens, but where a Baker's dozen is also the norm (and yes, that means you'll get 13 for the price of 12 each and every time).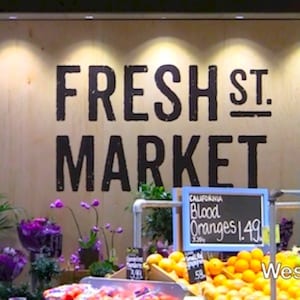 Imported New York cheesecake, designer chocolates, fresh handmade sushi and a little seafood showing off also are part of the mix. Here – they're anything but boring – and if you need cooking suggestions just pull out your smartphone and scan the QR code for ideas – or just let them do it for you.
And since shopping on an empty stomach is always a bad idea, you can pickup a custom made-to-your-order Fresh St extraordinary sandwich for $4.99 any day.
With a wide selection of organic offerings, the discerning shopper can find lots to choose from, but Fresh St also stocks regular name brands too in the hopes of satisfying everyone's shopping lists.
Overall, the new concept store has certainly caused a stir in the neighbourhood and even a bit of a traffic jam as people flock to meet the new kid in town. Fresh St. Market also seems to have answered the call for a uniquely local shopping experience that touches all compass points and hopefully, helps point the way for even more improvements to West Vancouver's anxious and aging storefronts and streets.
Video and story by Catherine Barr