The rumours are true. Country legend and cowboy cutie Kenny Chesney will headline this year's Ambleside Live concert series on June 25th in West Vancouver.
Also on the boot-stomping bill are special guests Jake Owen and Chase Rice.
This year marks the first official time the Ambleside Live concert series has gone country. Names like Sarah McLachlan, Sheryl Crow, Neil Young, Sarah and Teegan, Fun and Ed Sheeran have all helped establish this new live music series held in West Vancouver at Ambleside Park during the summer months. The events have been touted as landmark attractions for what most people consider to be Canada's sleepy yet wealthy community.
Ticket to go on sale January 31, 2015. Be sure to bookmark this page for more information as it becomes available.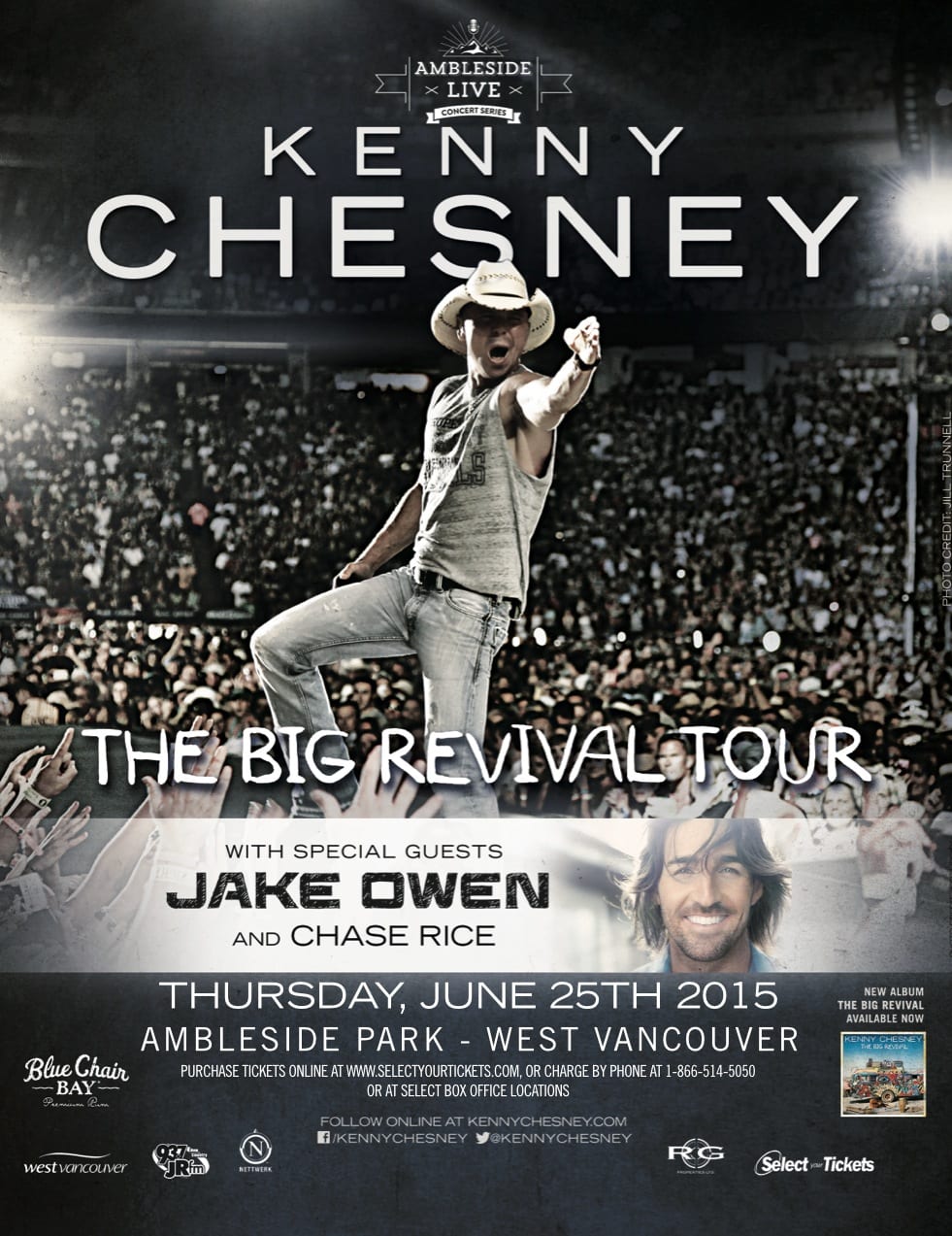 Date: Thursday, June 25th, 2015 – Ambleside Park, West Vancouver
Tickets: Premium General Admission $145.00 + SC (limited number of tickets available)
General Admission: $85.00 + SC
Gates: 3:30 PM* (Premium General Admission)
5:00 PM* (General Admission)
Showtime: 6:30 PM*
Tickets on sale Saturday, January 31st at 10:00 AM PST. Available online through Select Your Tickets www.selectyourtickets.com, by phone 1- 866-514-5050 and at select box office locations.
Kenny Chesney 'The Big Revival Tour' will make the one and only Western Canadian tour stop at one of the Pacific Northwest's signature concert venues. Enjoy spectacular views at Ambleside Park in West Vancouver as Kenny Chesney, the only country artist in Billboard's Top 10 Touring Acts of the past 25 years, takes the stage with special guests Jake Owen & Chase Rice.
Kenny Chesney: www.kennychesney.com
Winner of the Country Music Association and Academy of Country Music's Entertainer of the Year Award a combined 8 times, Kenny Chesney has sold over 30 million albums, had 24 #1 hits and recently received the American Country Countdown Awards' Groundbreaker Award.
The Big Revival, his latest release and 13th #1 Billboard Country Album debut, already yielded his 25th #1 song with the multiple week chart-topper "American Kids," also nominated for Best Country Song at the Grammys. "'Til It's Gone," the follow-up, is poised to be yet another #1 for Chesney.
Even the critics concur. Rolling Stone offered The Big Revival "continuously brings a sense of musical energy and emotional urgency" while USA Today called it, "a coming-of-age tale full of life-changing memories." For critics and fans alike, Chesney's music has once again struck a chord with the No Shoes Nation.
"Connecting with the fans is what drives me. Whatever we give them, they give us back double. That inspires everything we do" says Chesney. "They come to live these songs, to feel 'em, to touch 'em, to experience them together…and when that energy hits the stage, the way those people – whether it's 50,000 in a stadium or a few hundred in a bar – love this music, it pushes me that much harder."
Jake Owen: www.jakeowen.net
Jake Owen became a star so quickly that he didn't have time to memorize any Country Music Rule Book – which made it that much easier to toss it out the window.
Guided by sheer musical instinct, a drive for self-improvement and a willingness to experiment, the singer-songwriter has crafted Barefoot Blue Jean Night as one of the most innovative and refreshing country collections of the year. The album's title tune is already exploding as the biggest hit of Owen's career to date.
Jake Owen has previously enjoyed major-league success with such performances as 2006's "Startin' with Me," 2008's "Don't Think I Can't Love You," and 2009's "Eight Second Ride." His revival of "Life in a Northern Town" with Sugarland and Little Big Town in 2008 earned him Grammy and CMA Award nominations. Owen was named 2009's Top New Male Vocalist by the Academy of Country Music. But nothing, he says, compares to the impact his new music is making.
Chase Rice: www.chaserice.com
Chase Rice is that rare artist who means what he says and backs it up with equal measure. I'm going to speak the truth any way I can," says the singer-songwriter, who, without a song on mainstream radio, saw last fall's Ready Set Roll EP top the iTunes Country charts and when its titular single hit the radio waves, he watched it climb up the Billboard charts and hit Gold before it even entered the Top 20.
Rice, who co-wrote the Hot 100-busting Florida Georgia Line single "Cruise," is rearing back for more with his new full-length, major-label LP Ignite The Night. It's a genre-busting bruiser of an album that tackles tube tops and tears in equal measure, out via Columbia Nashville and his own Dack Janiel's label.
Rice's live show is an adrenaline shot of energy, conservative standards be damned. He takes cues, in this regard, from his idols like Garth Brooks and Kenny Chesney and, before them, the Highway Outlaws: Waylon Jennings, Willie Nelson and Johnny Cash.
For more information visit: www.amblesidelive.com
* Gates and show times subject to change without notice.
* Show will occur rain or shine and a 10:00 PM curfew is in effect.
Ambleside Live Concert Series is produced with support from RG Properties Sports & Entertainment, Nettwerk Music Group and the District of West Vancouver.