It has just been learned that Park Royal Shopping Centre in West Vancouver has added yet another prestigious brand name store to its new expansion.
According to retail-insider.com – Quebec based La Maison Simons (simons.ca) will open in the fall of 2015. Located at Park Royal South, the store is rumoured to be 100,000 square feet and, judging from the sketch, will be a beautiful addition to the already stunning line up of stores expected to open over the next year.
By 2015, it will be the third Simons store to be located outside of the province of Quebec. Its first out-of-Quebec store opened last year at West Edmonton Mall, and a Simons store will open at an expanded Rideau Centre in Ottawa in 2015.
With the addition of La Maison Simons, the Park Royal mall expansion project will include about 300,000 square feet of new and reconfigured retail space, including the outdoor "village" shopping area.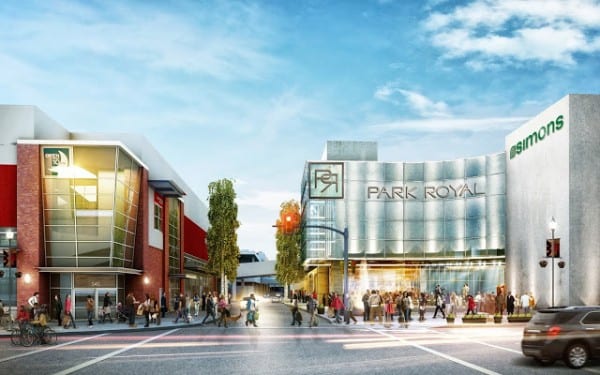 Park Royal is the second-largest mall in the Vancouver area. It's about 1.2 million square feet and has over 280 stores. The mall is located in West Vancouver, said to be Canada's wealthiest municipality.
The mall's expansion will bring it to over 1.3 million square feet.
CHECK RELATED ARTICLES:
Park Royal Announces New Store Opening Dates
Park Royal Mall Announces Names of New Stores to Open – Sephora, Zara, Lush, Antrhopologie, J Crew, Italian Kitchen
– – –