Construction of certain parking areas within the new South Park Royal mall have delayed the opening of two of the newest retailers – but as announced today, the shopping centre is still on track to meet the Christmas shopping rush.
A new release notes the new opening dates of several new stores, including the delayed Sephora and Lush cosmetics. Others, like J. Crew, Zara and LOFT, will also follow suit and plan to open prior to the end of November. All dates, according to the release, are subject to change.
·      Anthropologie – Planned opening November 9
·      LUSH – Planned opening November 9
·      Sephora – Planned opening November 9
·      J.Crew – Planned opening November 12
·      LOFT – Planned opening November 15
·      Zara – Planned opening November 30
·      The Men's Club – Planned opening end of November
·      Faubourg Paris Café – Planned opening December
·      Aritzia – Planned opening December 15
·      White Spot – Planned opening early 2014
·      Trattoria – Planned opening early 2014
Some of the stores are ready to go now, but construction of the nearby parking lots currently make it unsafe for vehicular and pedestrian traffic to enter the areas. These ongoing changes affect many of the opening dates and it is worth noting that there may be more unexpected delays in the future. It all depends on timing it seems but reports from Park Royal head office confirm that the crews are working round the clock to make things happen and – most importantly – ensure that things are safe within the environment.
Improved parking however is only half the story as reports from the mall's head office also include mention of ultra deluxe parkade structures that will be just as luxurious as the stores themselves. Touted as being one of the best designs in Canada, the parkade promises to deliver on the latest in safety and lights, technology (digital parking stall counters) and convenience. Let's hope it also includes extra wide spaces to avoid door dents. Stay tuned.
– –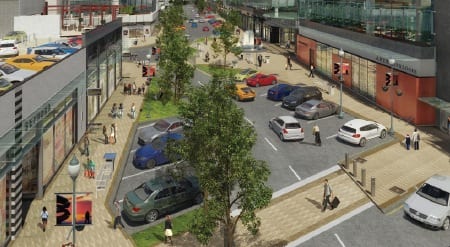 Related Articles
New Park Royal Opening Stores Dates Announced
Park Royal Announces New Stores Zara, Sephora and Italian Kitchen.