Renovateme! design and construction is honoured to be nominated by the Greater Vancouver Home Builders' Association as a finalist in the 2017 Ovation Awards. We welcome the acknowledgement and strive to continue to provide exceptional renovations and client service.
We are proud to showcase one of our latest bathroom renovations where a builder grade master bathroom is transformed into a spa-like oasis that serves as the perfect backdrop to escape life's little "tugs and pulls."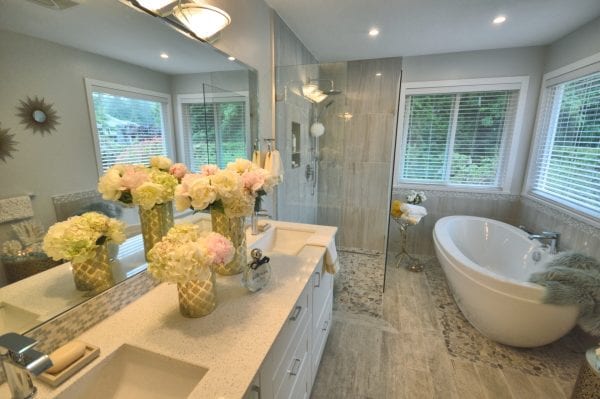 The goal of the renovation extended further than a simple aesthetic update to include remedying the water damage and tile delamination that had resulted from a lack of waterproofing from a previous renovation done by a different contractor.
The completed project is not only visually appealing, but also adheres to proper industry standards concerning water penetration and mold prevention.
Best of all, it is now a 2017 Ovation Awards Finalist – and it is not hard to see why…
From its white wood vanity cabinet with full extension soft-closing drawers and doors, to its 2cm toffee quartz top with dual porcelain undermount sinks and single column faucets, this bathroom's panache is evident from the moment you enter.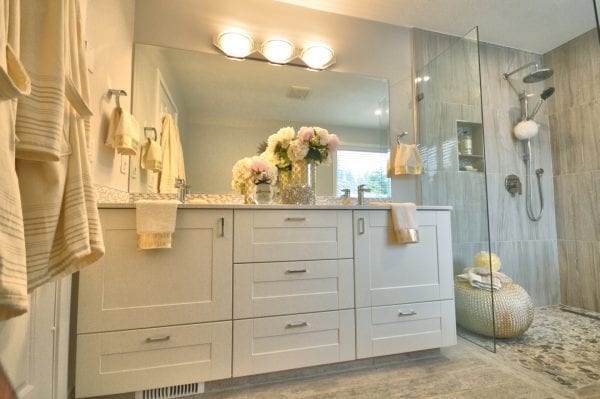 Its curbless walk-in shower impresses with a Schluter inline stainless steel drain and frameless 10mm thick tempered glass enclosure. Additional shower features include a tiled niche to house and display product, wall-mounted rain showerhead and rail-mounted 3 jet handheld wand.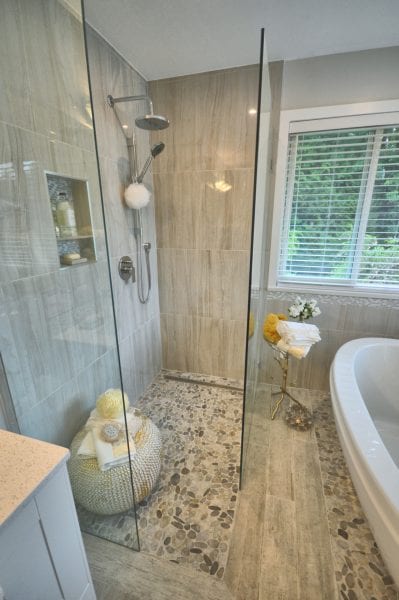 The free standing Maax bathtub rests on a bed of flat ground toasted biscuit coloured river pebbles – with the surrounding walls clad in 12" x 24" polished porcelain and marble/glass mosaic trim. The shower floor is dressed in the tub's pebble accent, while the remaining floor boasts 6′′ x 36′′ driftwood inspired Italian porcelain. Schluter waterproofing and decoupling membranes are incorporated throughout to protect the shower walls and entire bathroom floor.
No detail is small enough to not garner our attention. Consequently, all vanity, shower and bathtub hardware are of a matching design with a polished chrome finish. A one piece closed trap dual-flush elongated toilet with soft-closing seat is installed. A full size frameless bevelled mirror adorns the vanity cabinet creating the impression of boundless space and possibilities while the translucent, shimmering backsplash subtly makes its presence known. All in all, style, charm and luxurious finishes (and the added peace of mind provided by superior waterproofing techniques) are the order of the day in this memorable bathroom transformation!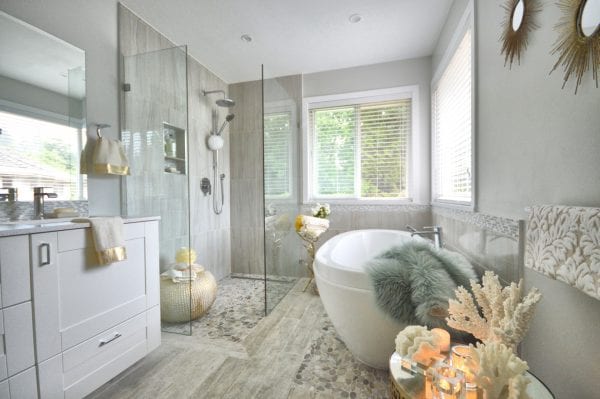 Renovateme! design and construction is a family-owned and operated provider of design/build services proudly based on the North Shore. We specialize in complete home renovations including kitchens and bathrooms and everything in between to offer a fully integrated service from design to completion. For additional information on this project and more, please visit us at www.renovateme.ca