It was rumoured last year at this time, regular unleaded gas would reach $1.50 a litre by summer. Well, a year later, that is now a reality. Yikes. It is funny that people will accept, or at least tolerate, fuel prices until a benchmark rate such as $1.49.9/l starts showing up everyday around town. In my case, that town is Vancouver BC, and the green movement is stronger than ever. Hybrids are now commonplace around the city and my auto dealer pals tell me that demand for upscale, eco-friendly models is now here to stay.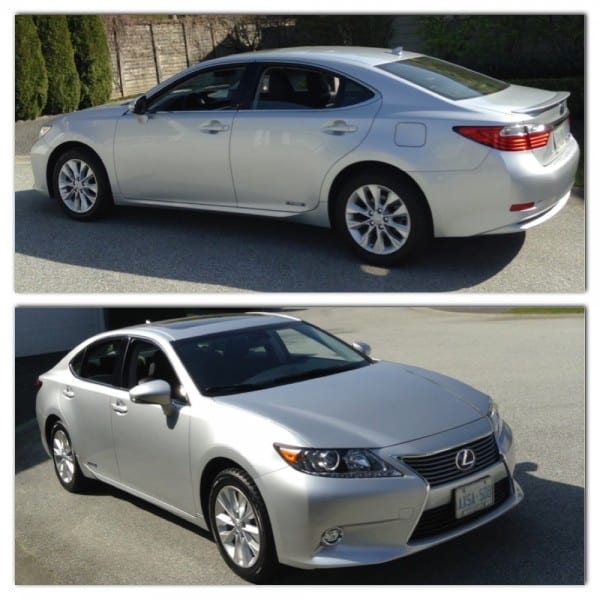 So do hybrids really work? That is, can an owner really save fuel costs buying a luxury sedan that has both an electric motor and traditional combustion, gasoline fired engine? Yes, no question. Is doing so good for the environment? Yes. Everyone cares, even a little bit about the Earth's future and cars like the Lexus ES300H do make a difference.
The non-Hybrid ES350 is a V6, whereas the ES300H is a strong four cylinder 2.5 liter power plant that targets the manufacture's claim of an estimated 5.9 L/100 km (40mpg). Two hundred useful horsepower and front wheel drive do a great job in moving the car up hills, onto highways and past slower traffic, all with very little effort.
On a personal note, I drive an RX350 SUV, one of the most popular of Lexus products. There are not words that can truly explain the peace of mind that is tied to Lexus. Sure, most cars today are very reliable, but some brands go above and beyond the everyday routine of turn-the-key-and-go. Yes, in their "Pursuit of Perfection", Lexus has consistently achieved this. Every Lexus model makes and meets this promise.
The ES series harkens back to 1989. Every year it has produced awards in some form, or another, namely, the JD Power award for reliability and customer satisfaction. I am hard pressed to name many other manufactures that can make that statement, year after year, for such an extended period of time.
This car's powertrain, fit and finish, and overall build quality make it a pleasure to drive in the city or on the open road. Again, that confident, no-worry feeling is delivered the moment you enter the vehicle. It is comparable to, if not beyond, a good number of Stuttgart's, Ingolstadt's or Munich's similar offerings, no question. Turn the key and go (or in this case, push the button) is reality. Not hearing the gas motor seamlessly engage at low speeds is just another benefit, as is the constantly varying transmission mapping, which maximizes fuel economy. Clever, functional and reliable for the long term.
Mid-sized sedans however always seem to have a handling stigma attached to them. They are typically heavy with understeer and a tend to bob around when you push them just ever so slightly. I have always disliked that in a car. Yes, again, some are better than most, but shouldn't all cars over $30K be held accountable to a better than normal driving experience?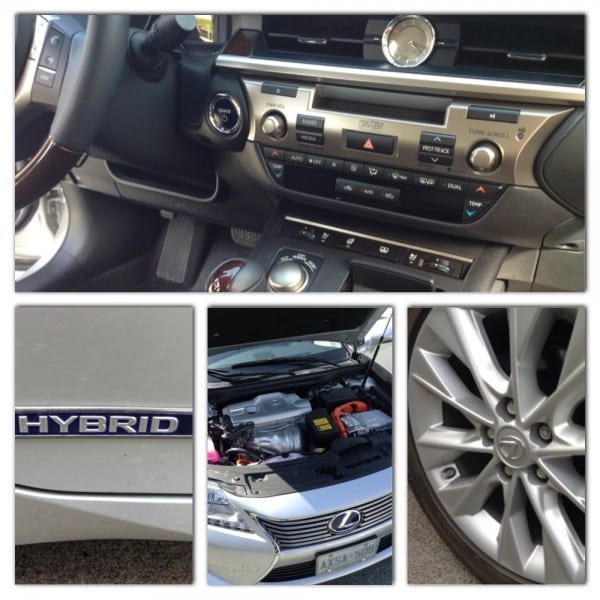 In the 2014 ES300H, the steering, cornering, braking and acceleration react and perform as a luxury car should. Solid, effortless and smooth. You can switch off that fluid, floating feeling by accessing a dial wheel on the centre console that will move your driving kinetics from full "EV Mode" to "Normal" (a combination of low speed EV and gas engine). Move it again to "Sport" and it changes the car's engine performance in a noticeable way, especially on the highway. On the dash, a blue background is displayed when in "Eco" mode and red when in the "Sport" position. Applying the brakes assists in charging the electric motor very effectively and with minimal noise or notice.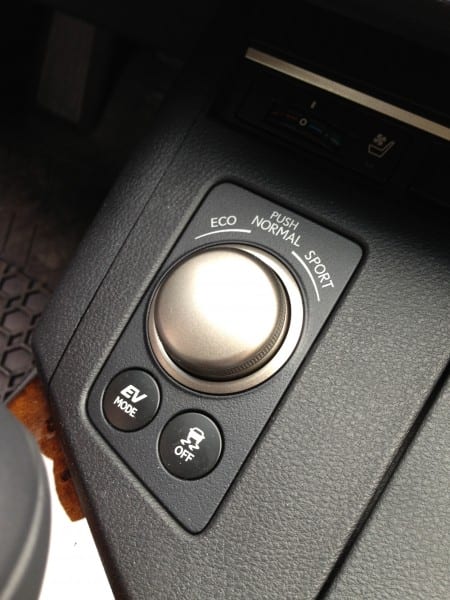 As a driver, the road is well positioned with the steering wheel and controls where they should be. The switch gear and instrument cluster are also well placed. As a passenger, the leg room is ample, but tall, back seat occupants could benefit from a little more headroom from this coupe. Xenon headlights and multiple airbags enhance safety and again passenger and driver peace of mind.
I find the seats to be comfortable, but perhaps a little on the soft side. The heated and optional ventilated front seats are great and easy to use. I also give the audio and HVAC controls a 7.5 out of 10. I would like to see both Toyota and Lexus change the "auto" temperature setting to something less mysterious with a better indication as to whether the system is either turned on or off as sometimes it is hard to tell what is happening. I'd also like to see the middle centre console vents better positioned or have better range so as to deflect air away from the eyes.
All of the regular expected luxury touches are included with the ES300H like, Bluetooth, navigation, USB/SIRI (Eyes-Free), back-up camera, wood interior trim, leather surfaces, dual-zone climate control, keyless entry, push button start, power sunroof and cruise control. The version tested here was also equipped with a rear power sunshade, which does come in handy on a long, hot drive or when parking in the heat for an extended period. In 2018, all cars sold in North America will be equipped with a standard back up camera. I vote for a rear power sunshade also, where applicable, because it really works.
The Mark Levinson sound system, in conjunction with the XM satellite radio, will not disappoint. At any volume it is rich and clear. The new remote touch interface (Remote Touch LRT) allows you to access the display/navigation screen via a joystick/mouse type pad and includes new innovative features. A cleaner Euro-style interface on the 7″ management screen would be my preference. It works very well, it just looks a little plain versus similar offerings. Not a big issue though, as other creature features mentioned here stand out.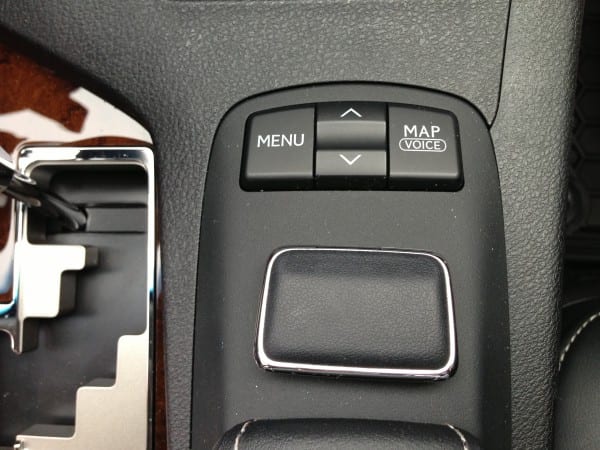 Lexus has estimated that roughly 25% of this year's ES sales will be the Hybrid model. That alone is impressive, considering the Hybrid is only in its second year.
Overall, the ES300H is a future-friendly luxury automobile that holds its own and then some. If you are looking for ride quality, legendary reliability, luxury, solid performance AND amazing fuel economy, drive this car for an hour or more and then make your comparative decision.
Like:
Great mileage in both city and highway results
Above normal handling
Build quality and looks
Very quiet ride
Stereo
Driving confidence
Dislike:
HVAC Controls
Backseat headroom for taller folks – one more inch would really help
Windshield wipers that seem unable to be fully concealed when not in use
Shifter that could use a makeover to indicate crisper gear selection locations
Suggestions:
A fresh user interface for the stereo and related screen-driven comfort controls
A small LED light on the glove box door latch to locate it in the dark easier
A split rear seat to compliment the fairly generous trunk
2014 Lexus ES300H Specs: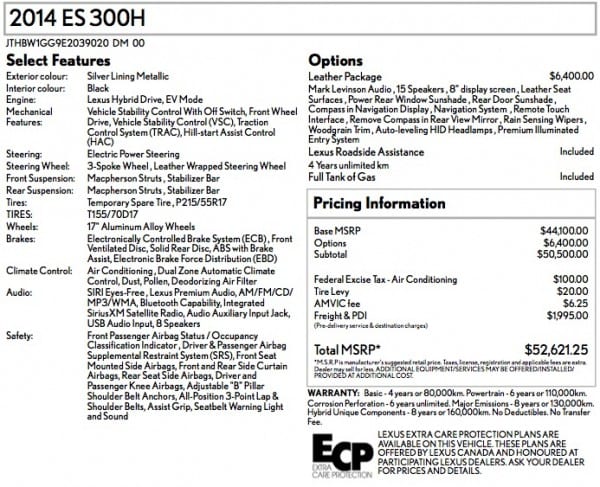 By Craig Turner