She's been a sultry songstress for over 36 years. And now, with her amazing sister Nancy, Ann Wilson of Heart looks back on a year to remember – and an outlook for the future that 'heart-ily' refuses to miss a beat.
First there was a little announcement that the girls were to be inducted into the Rock and Roll Hall of Fame. Calling it a "rock-knowledgement" of their success, the star-studded ceremony that followed served as true validation that these leading ladies were nothing short of iconic in their contributions to rock and roll history.
There was also a little concert held at the Kennedy Centre Honours. The sisters performed Stairway to Heaven in front of Led Zeppelin's Robert Plant, Jimmy Page and John Paul Jones with such passion that it is said to have brought Plant to tears.
And even though rubbing elbows with the rich and famous is nothing new, Ann shares that while life in the spotlight is great, it is still the music that remains the most important driving force for her and Nancy to keep rockin'.
Talking to her, you can't help but smile as you hear lyrical notes of that powerful singing voice that she has caged up inside. Wise and willful and wonderfully amiable, you know she really has seen it all. And yet, somehow, she seems to have managed to strike a magical balance between the temptations, and sometimes frustrations, of fame.
And with a tip of her hat to the past, and a pragmatic nod to the future, it's easy to see why Heart, and the Wilson sisters, are truly loved and adored the world over.
– – –
Heart and Friends perform live in Vancouver on December  13
for complete concert information please click here
– – –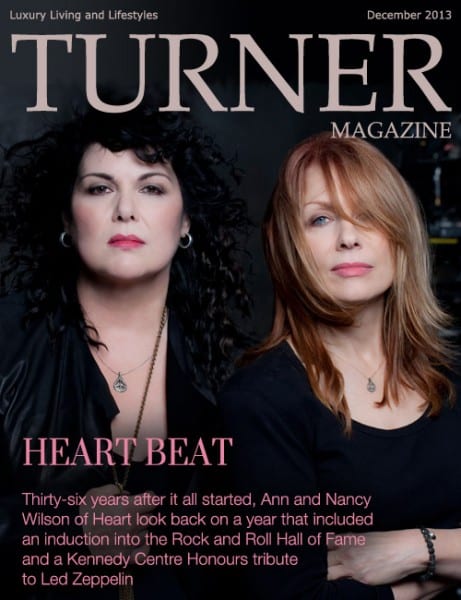 HOW DOES IT FEEL TO BE THIS FAMOUS 36 YEARS AFTER IT ALL BEGAN?
It feels really good and it's really not something that you can describe. It's very subjective, so you don't just stand outside yourself and go "look at me, I"m famous." It really does just keep going and you try and do your best. It feels really good, especially when things keep happening.
YOU WERE TREND SETTERS AND YOU BROKE THE MOLD BACK IN THE DAYS. DO YOU FEEL DIFFERENT NOW THAT YOU ARE PART OF THE ROCK AND ROLL HALL OF FAME?
Actually, no. I still feel the same. I still feel just as wide-eyed about the job as I did before. The Hall of Fame was a terrific honour and just a very amazing and breathtaking evening, but then you go back to work and you do what you set out do.
WHAT WAS IT LIKE SINGING STAIRWAY TO HEAVEN TO THE MEMBERS OF LED ZEPPELIN AT THE KENNEDY CENTRE HONOURS THIS YEAR?
Well, we were really amazed. The thing I wanted the most was just to please them and just do a good job and bring their song by not screwing it up in any way. And just present that almost holy song in a way that they were going be made happy – and I think we did.
WHAT IS THE BIGGEST CHANGE YOU'VE SEEN OVER THE YEARS IN THE MUSIC INDUSTRY?
The biggest change is that records don't sell – [not the way they used to]. And people don't really want to collect records now. They want to stream everything, so there's been this switch to things like YouTube. It's neither good nor bad, just hard to put on your thinking cap. You have to figure things out differently – what shape is your new creativity going to take.
I KNOW YOU'RE ASKED THIS A LOT, BUT WHAT'S THE HARDEST PART ABOUT BEING A WOMAN IN THE MUSIC INDUSTRY?
It's really not that hard. I don't think it's harder than being a man anymore. There are quite a few women in the industry now. So many, that sometimes I look at all the girls out there and wonder "where are the boys?" In the beginning, the hardest part was just finding credibility because [back then] women were considered sexual entities only – so to go out and be something more than that, you really had to work for the credibility.
THEY SAY VANCOUVER IS KIND OF SECOND HOME FOR YOU AND IT PLAYED A BIG ROLE IN THE EARLY DAYS. CAN YOU SAY MORE ABOUT THAT?
I moved to Vancouver when I was 22, cause I loved a man. We lived over in West Vancouver. We didn't have any money. We'd just hitchhike around in the beginning and get our brown rice and stuff. We were hippies. It was a very sweet city to be 'in love' in and it gave us our first chances to perform in clubs like Oil Can Harry's and The Cave.
WHAT IS IT LIKE WORKING WITH YOUR SISTER ALL THESE YEARS?
It's good. We know each other as well as we know anybody else. We complete each others' sentences. She is a great musician. An original. And I still feel blessed to be standing by her on stage. She does what no one else does.
YOU'VE WORKED WITH MANY GREAT MUSICIANS AND SINGERS, INCLUDING A FEW VANCOUVER PEOPLE. YOUVE ALSO HAD A HIT SONG, WTIH MIKE RENO OF LOVERBOY, FROM THE FOOTLOOSE SOUNDTRACK. WHAT WAS THAT LIKE?
Well, we spent one evening working together, in Chiciago I think it was, and he came over to see Heart. We ended up singing Almost Paradise together [for the album] and he was very sweet, very gentlemanly. We had fun. It was easy.
YOU'VE ALSO JUST RELEASED SONGS WITH SARAH MCLACHLAN AND WILL SING WITH HER AGAIN AT THE UPCOMING CONCERT IN VANCOUVER. CAN YOU SAY MORE ABOUT THAT?
What a wonderful person she is. She's just smart and strong and sweet. She's just a good human and it would be really great to do more music with her. We're definitely doing one or two songs at the upcoming concert in Vancouver. We haven't done our rehearsals yet, but it will be great.
WHAT MUSIC DO YOU LISTEN TO AT HOME?
I listen to a lot of world music. And I listen to lot of old school Motown. I just think there's great singing and songwriting out there. That's what makes me listen to music. Motown inspired me to start [writing and singing] at age 10 – and so my earliest memories were of groups like the Supremes and more.
WHAT ARE YOU HOBBIES AWAY FROM MUSIC?
I'm raising a 15 year old son, so I'm watching a lot of NFL football these days. And so my life is not so much like a mom in the kitchen, as much as mom on football.
AS A MOM, HOW DO YOU FEEL ABOUT THE WHOLE INTERNET AND SOCIAL MEDIA CRAZE?
Wow, the whole Facebook thing. When he gets out of line, that's the first thing that gets pulled. That's important to him, so in that way it's something that parents can control. But in another way it's way beyond our control. It's a tool that they're going to need to [improve] this planet – and at some point to be able to save the human race. They're going to need everything they can get when it comes to tech. I'm just glad I have him in the house when I get stuck for technical support.
WHERE DO YOU SEE YOURSELVES AND HEART IN THE NEXT FIVE YEARS?
We've never planned much further than a year in advance. I can still see us playing music, but we will have new music and hopefully a new hit or two. Something great will come up for us that will be just as surprising as last year was. It might not be the same Heart you've seen for the last few years.
TELL US WHAT WE CAN LOOK FORWARD TO IN YOUR UPCOMING VANCOUVER SHOW?
I just hope that people come down and enjoy the show in Vancouver cause it's going to be great. It's going to be loose. Just a bunch of us musicians up there doing what they do together – and not rehearsed to death. We're just going to have fun.
By Catherine Barr – December 2013