The Vancouver International Boat Show returns for another season from Wednesday, January 22 to Sunday January 26, 2014. This year's Show will feature new speakers, features, and attractions at two great locations – an indoor venue at BC Place and an in-water venue at Granville Island. Show goers can kick off the boating season early with new dates and hours, making it easier than ever for guests to learn from the best in the boating business and explore hundreds of boats and boating accessories to start the season.
Top Ten Features at the Vancouver International Boat Show:
1) New Hours & Dates – The 2014 Show kicks the boating season off earlier than ever before with extended hours and new dates. The Vancouver Boat Show will run from January 22-26, 2014, giving boating enthusiasts an early start to the season! Open until 9pm each night (exception – Thursday closing 7pm).
2) Two Great Venues – Guests will experience the boating lifestyle at the in-water venue at Granville Island. Take in the breathtaking views and eclectic local culture at this historic site. Guests will have the chance to shop the biggest boats of the season, and enjoy free boat rides. The in-water display is a prime location for food and drinks, situated right in the center of the venue. Visitors will be thrilled at the unique opportunity to explore the completely renovated BC Place, where over 250 exhibitors will showcase the latest boats, boat products, accessories and services at the best deals of the season.
3) S.S. Minnow and Castaway "Mary Ann Summers"
The legendary S.S. Minnow and castaway "Mary Ann Summers", from the popular television sitcom Gilligan's Island, are coming to the Vancouver Boat Show. Visitors will have the opportunity to meet the star of one of the most iconic sitcoms of all time, Gilligan's Island, when actress Dawn Wells is on site at BC Place Wednesday, January 22 and Thursday, January 23, between 5pm – 7pm on each day. The memorable S.S. Minnow, the 40' cruiser that served as the centerpiece of the sitcom, will be onsite at BC Place for the duration of the Boat Show.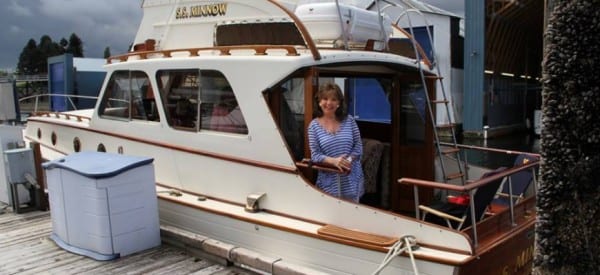 4) Learn from the Best – Boating experts from around the world share their experience and expertise on everything from boating basics to spellbinding boating adventures at the 2014 Vancouver Boat Show. Show goers get three times the entertainment, education, and inspiration with three seminar rooms. Enjoy hourly seminars from some of the most experienced and engaging sailors, fishermen, authors and more, including David Korsch, one of Vancouver's most experienced saltwater sport fishing guides. Wilson Kao will be presenting 'An Introduction to Boating and the Boating Lifestyle' in Mandarin, and author and travel writer Alan Boreham will be giving a seminar on sailing adventures in the South Pacific. These experts are only three of many speakers who will be sharing their captivating stories and expertise at the Show.
5) Sportfishing in BC – Finesse your form and tackle your sport fishing technique with this -more-
series of seminars dedicated entirely to sport fishing in BC. You'll find information on a range of topics, including everything from saltwater fishing off the coast of Vancouver to freshwater lake fishing and fishing the rivers of BC. Plus, with representatives from top manufacturers, industry experts, and catch and release Trout Pond available at BC Place, you'll be angling to get your season started in no time.
6) SailFest – SailFest offers a truly unparalleled showcase of all things sailing-related, including nautical products and sailing services to maritime destinations and more. Guests can explore more than 1,500 square feet of sailing features inside BC Place and a large selection of sailboats on display at the in-water venue on Granville Island.
The Disabled Sailing Association will be showcasing the 'Iron Lady', a 15-foot Bellway Sunbird, which was specifically crafted for people with disabilities. The 'Iron Lady' herself, former UK Prime Minister Margaret Thatcher, graciously donated this boat to Rick Hansen.
SailFest will feature brand new interactive displays, top-of-the-line sailboats, high-performance racing crafts from premier manufacturers and the largest display of new sailboats to be found on the West Coast.
7) Discover Boating – With a wealth of free resources, and experts on site to answer all of your boating questions, there is no better time to discover all that boating has to offer. Seek advice on everything from destinations and new activities, to docking tips, maintenance help, instructional courses, accessories and more when you speak to a Discover Boating specialist. Are you new to boating? If so, find the beginner guide, informative take home DVDs and more all in one place.
8) Kid Zone – The love of boating starts young, and the Nautical Play Centre in the Kids Zone
is the ideal place for kids to discover their inner sailor! The safe, fun, kid-focused area offers young Show goers a chance to take a break from navigating the Show floor. Fun activities to keep kids entertained include building and decorating boats, paddleboat rides, nautical-themed craft tables and much more.
Kids can visit the Breakwater booth where LEGO® will be onsite giving away great prizes. The on-site LEGO Certified Professional Builder will have the kids in awe as he constructs a scaled replica of the Grand Prize Boat, made entirely from LEGO® and DUPLO® bricks. Visitors will also have the chance to own a 24" LEGO model of a new Larson LSR series boat as it will be auctioned off at the Show, with all proceeds being donated to BC Children's Hospital.
9) Win Fabulous Boat Show Prizes! – With tons of great on-site prizes and prize packages to be won, you may just be the next big winner! Enter to win an incredible 4-day family house boating holiday in Shuswap Lake, or the biggest Grand Prize package ever to be awarded in the Show's history, a 2014 18' Larson Boat, fully equipped with a 90-hp Mercury Outboard Motor and trailer!
10) Thousands of Great Products – Boat aficionados and novices alike will be able to explore the latest and greatest boats and marine products showcased by more than 250 exhibitors.
The Vancouver International Boat Show runs January 22-26, 2014 at BC Place and Granville Island. Pre-plan your visit at www.VancouverBoatShow.ca.
Adults: $15 – Seniors: $13
2-day Adult Passes: $20 2-day Senior Passes: $17 Kids (16 and under): FREE Buy online and save $3/ticket
Free shuttle buses and water ferries run continuously between BC Place and Granville Island
FREE Discover Boating boat rides at Granville Island; Kids' Zone; Sport Fishing in BC; SailFest, offering the latest sailboats, gear, and destinations; and, Discover Boating Centre, an educational one-stop-shop where attendees can find unbiased answers on how to get started in boating.
Western Canada's largest consumer boating event, the Vancouver International Boat Show is owned by the British Columbia Marine Trades Association (BCMTA), and produced by Canadian Boat Shows.