With British Columbia officially in Phase 3 of the province's Restart Plan, Whistler is ready to roll out the welcome mat and is inviting visitors back to the resort. With new guidelines and safety protocols in place, visitors are invited to keep their passion for the mountains alive this summer, while still respecting the current situation by exploring responsibly and interacting considerately.
"Now that provincial health authorities have lifted their recommendation against non-essential travel, we are very much looking forward to welcoming our guests back to Whistler," says Barrett Fisher, President & CEO of Tourism Whistler. "This will be the ultimate staycation summer in BC – and Whistler, with its wide open spaces, pristine natural environment and variety of outdoor activities, is an ideal destination for those looking to plan a summer getaway."
Everything visitors love about Whistler is still available this summer season, with many ways to explore from peak to valley, but at reduced capacities to assist with social distancing. To help visitors plan their trip and understand the "new normal" in the resort, a new Doors Open Directory is available. The Whistler Doors Open Directory provides up-to-date information about what is open in Whistler and details how businesses are upholding the highest of standards in health and safety for all.
"The safety of our guests, residents and staff is our number one priority as we reopen our community to tourism," adds Fisher. "We want our visitors to feel safe and secure when planning their trip and to understand the Whistler they know and love is still here for them, but is operating at a slightly different pace."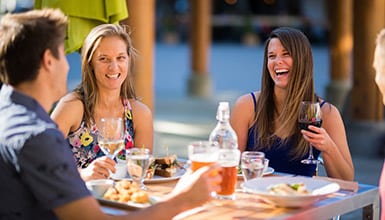 Planning ahead will be the key to getting the most out of a getaway this summer, so Whistler is encouraging all visitors to do their research. Many businesses and experiences in the resort will have modified operations this summer, and while many restaurants, pubs and cafes are open, capacity will be limited so visitors should make reservations, or consider dining during non-peak times. Grabbing takeout and dining al fresco at a park or lake is another great option.
With international travel restrictions still in place, Whistler is encouraging BC residents to spend more time in the resort this summer to get the most out of their Whistler experience. From hiking and outdoor activities, to relaxing at the lakes and exploring shopping, dining and cultural attractions in Whistler Village, travellers will need more than a weekend to fit it all in. Visitors are also encouraged to visit midweek when the resort is typically quieter and there is good value to be found on accommodation.
To help entice visitors, Whistler is offering summer vacation deals, including a $50 Adventure Voucher for anyone who books a three night stay or longer, and midweek hotel room rates from $93 CAD. Whistler is also offering flexible cancellation policies to help visitors book their summer getaways with confidence.