Results: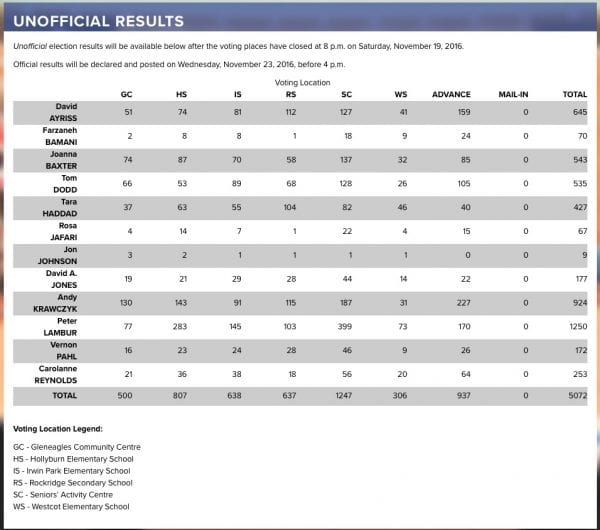 The following candidates are running in the By-Election for one Office of Councillor:
AYRISS, David
BAMANI, Farzaneh
BAXTER, Joanna
DODD, Tom
HADDAD, Tara
JAFARI, Rosa
JOHNSON, Jon
JONES, David A.
KRAWCZYK, Andy
LAMBUR, Peter
PAHL, Vernon
REYNOLDS, Carolanne
Community organizations give you a chance to meet the candidates and ask them questions by organizing All Candidates meetings:
November 16th at the Senior Activity Centre
November 16th at the Kay Meek Centre
General Voting Day – Saturday, November 19th, 8 AM – 8 PM
Vote at one of the following voting places:
Hollyburn Elementary School – 1329 Duchess Avenue
Irwin Park School – 2455 Haywood Avenue
Rockridge Secondary School – 5350 Headland Drive
Westcot Elementary School – 760 Westcot Drive
Gleneagles Community Centre – 6262 Marine Drive
Seniors Activity Centre – 695 21st Street
Curbside voting is available during advanced voting and at all voting places on general voting day. Mail ballot voting is available for eligible voters.
Please visit https://westvancouver.ca/news/2016-municipal-election for more information.