The latest release from Park Royal Shopping Centre shows that while Sephora continues to suffer from delays, LUSH and Anthropologie have opened their doors for business.
The mall also reveals that they are planning an opening celebration on Saturday Nov 30 to introduce shoppers to the newest retailers. Please see full text below:
– – – –
We're having a party to celebrate the opening of our new popular stores at Park Royal and you are invited! Join us on Saturday, November 30 from 10 a.m. – 2 p.m. as things heat up (literally!) this holiday season at Park Royal. Live musical sounds will fill the air and a special dance performance from the Squamish Nation will be sure to leave you breathless. Watch as fire and ice themed performances captivate everyone's attention, from live ice carvers to fire breathers. So, let your inner fashionista take over as you check out all your favourite fashions from stores including Anthropologie, J.Crew, LOFT, LUSH, Sephora and Zara.
DATE: Saturday, November 30
TIME: 10 a.m. – 2 p.m.
LOCATION: Village Expansion in front of Park Royal South (near Anthropologie and J.Crew)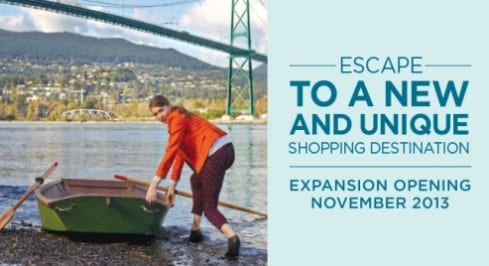 The first of our popular new stores in our expansion are open for business now: Anthropologie and LUSH. These two stores are their first North Shore locations and will soon be followed by the opening of Sephora, J.Crew and LOFT this Friday, November 15.*
We listened to what YOU wanted: more fashion options available in a relaxed, outdoor shopping environment. Plus, a beautiful new, modern, bright parking area with tons of accessible parking will soon be open. Shopping nirvana!
In addition to the above store openings, here are some more planned opening dates for our new retailers. Keep in mind that these dates are subject to change, so stay tuned for updates.
· Zara – Planned opening November 30
· The Men's Club – Planned opening end of November
· Faubourg Paris Café – Planned opening December
· Aritzia – Planned opening December 15
· White Spot – Planned opening early 2014
· Trattoria – Planned opening early 2014
*opening dates subject to change