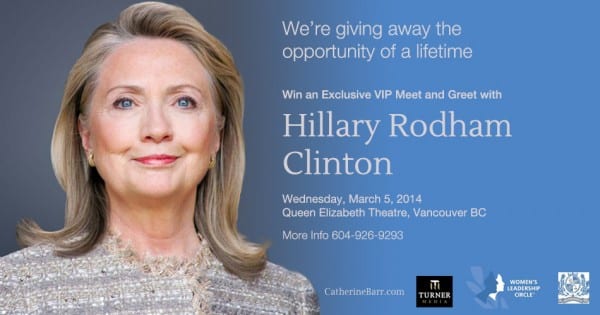 WestVancouver.com, NorthVancouver.com and CatherineBarr.com, in cooperation with the Vancouver Board of Trade, have been given special permission to give away an exclusive VIP Meet and Greet opportunity for the upcoming Hillary Clinton event on Wednesday March 5, 2014 at the Queen Elizabeth Theatre.
You'll also have your photo taken with the former first lady and join in the excitement prior to the show with other VIPs and dignitaries who have paid handsomely for this opportunity.
We only have two spots available – and you must be an event ticket holder to qualify.
If you don't already have tickets, you can purchase them today.
A new block of tickets was just released – so if you don't have your tickets yet, you'll need to purchase them asap. If you need assistance, please call us at 604-926-9293 and we'd be happy to assist you in your purchase.
Here is the link to purchase tickets.
http://boardoftrade.com/events/overview/2218462511.aspx
After you purchase your tickets, please fill in the form below to be shortlisted and be considered for the Hillary Clinton VIP Meet and Greet opportunity.
Then, on Feb 26, the Vancouver Board of Trade will make a random draw to choose the final people from the shortlist.
So . . . if you are interested in an opportunity to meet Hillary Clinton in person, please let us know. This is a special occasion and a once in a lifetime opportunity available only to friends of CatherineBarr.com and viewers of WestVancouver.com and NorthVancouver.com.
If you have any further questions, please do not hesitate to contact us at 604-926-9293.
We look forward to seeing you at the event.
THANK YOU FOR ALL YOUR INTEREST – THE GIVEAWAY IS NOW CLOSED
CONGRATULATIONS TO J. DAVIES – WINNER OF OUR HILLARY CLINTON VIP MEET AND GREET