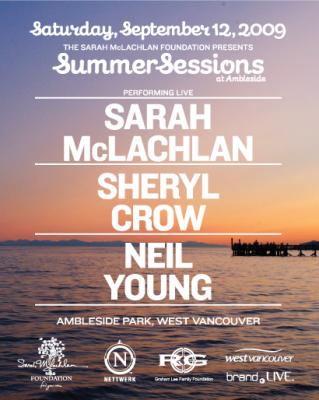 It's been rumoured for weeks now – but a concert in West Vancouver, at Ambleside, with Sarah McLachlan, Sheryl Crow and Neil Young ???? Well, it just didn't seem possible considering West Vancouver's reputation as a sleepy old little rich bitch community. Happily, it looks like a dream come true after all – and tickets go on sale July 18th at 10am – so get out your mobile phones or jump on the internet because with only 9,000 available, and given the worldwide appeal of this concert, tickets will go fast (please see complete information below).
We were talking about it briefly on my AM 650 Radio segment yesterday morning, so I'm glad that the final, official press release was put out to the public today. I have been so excited with anticipation and honestly can't believe that it's finally all happening. Sarah McLachlan is truly one of the nicest people I have ever met and she works so tirelessly for her foundation. I am also really proud that Sarah would consider putting on the concert here in West Vancouver which, by the way, just happens to be where she lives with her beautiful family.
Still, I wonder how West Vancouver will handle the logistics of a Sarah McLachlan, Sheryl Crow and Neil Young concert with such worldwide attention. Contrary to the public press releases, we are NOT a city – not officially anyway. We are a small Municipality of about 45,000 people and we do love our little villages and small town ways. West Vancouver isn't use to hosting the world – just yet. But we better get good at it soon considering we're also an official Olympic Host Venue for the upcoming Vancouver 2010 Winter Olympic Games. In fact, the coolest sport of the whole games (other than hockey of course) will be held at Cypress Mountain (Cypress Bowl to us locals). Here is where the snowboarders, moguls and aerial events will be held and it's all happening less than five minutes from my door.
Bless you Sarah McLachlan and all your wonderful efforts. I'm behind you 100%.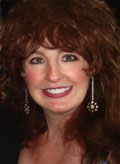 – Catherine Barr –
Catherine (Cat) Barr is the acting editor and founding publisher of NorthVancouver.com and WestVancouver.com online. She has worked as a reporter in Vancouver for over 10 years for publications like the North Shore Outlook, Metro Vancouver, The North Shore News, The Vancouver Courier, CFUN 1410 Radio, AM 650 Radio and more. She is best known for her celebrity/society photo columns which are still published weekly throughout the Vancouver area. She can also be heard every Tuesday morning on AM 650 Radio at 8:45 am with host Gerry O'Day.
For more info – www.catherinebarr.com / Twitter / Facebook
– – – formal PRESS RELEASE Start – – –
It is with great joy to announce Summer Sessions: A Premiere Benefit Concert Presented By The Sarah McLachlan Foundation. Held on Saturday, September 12th at the Ambleside Park in West Vancouver, BC, the event will feature special performances from guests, Neil Young, Sheryl Crow, and Sarah McLachlan. Highly sought after tickets will be publicly available as general admission seating and select reserve seating on Saturday, July 18th at 10 AM PST by way of Select Your Tickets or by phone at 1-866-514-5050. Event proceeds will contribute to the Sarah McLachlan Foundation, focused on bringing music into the lives of young Canadians, through providing free music programs to youth in under-served communities. For full event details, please click here or RSVP on Facebook.
(VANCOUVER, BC) JULY 15, 2009 – The Sarah McLachlan Foundation and the City of West Vancouver are proud to present SUMMER SESSIONS AT AMBLESIDE on Saturday, September 12th 2009. The one-day premiere benefit concert will be the first of its kind in West Vancouver, featuring performances by megastar artists SARAH MCLACHLAN, SHERYL CROW and NEIL YOUNG. Sarah McLachlan reflects, "I am thrilled to have Neil and Sheryl join me on stage at Ambleside Park this September to help raise funds for my Foundation. We hope the event will entertain and inspire, while increasing awareness of the need for music in children's lives. I am also excited that the City of West Vancouver has partnered with us to bring this event into the community that I have been proud to call my home for so many years." The gorgeous Ambleside Park in West Vancouver will provide the idyllic setting for the late summer concert. Alongside the premiere artists, the all day festival will include performances from an eclectic array of talented Canadian artists. All proceeds from the concert go to the Sarah McLachlan Foundation. The Foundation's mandate is to bring music into the lives of young Canadians, through providing free music programs to youth in under-served communities. The impact of participation is profound; building self-esteem, and fostering creativity in young people through the power of music. Tickets on sale Saturday, July 18th @ 10am. Tickets available at www.selectyourtickets.com or by calling 1-866-514-5050
[mappress]