Due to strong ticket sales, the producers of Cavalia's Odysseo are delighted to announce the addition of 13 performances to its run in British Columbia for the holiday season.
This 30-million dollar extravaganza will be presented under the White Big Top at Olympic Village in Vancouver from December 7 through January 5.
With its latest creation, Cavalia marries the equestrian arts, stage arts and high-tech theatrical effects at never-before-seen levels. A veritable revolution in live performance, Cavalia's Odysseo features 63 horses and 47 artists in a larger-than-life theatrical production that sends hearts racing.
Matinee and evening performances scheduled from December 7 through January 5.
JUST ANNOUNCED – SHOWS EXTENDED THROUGH TO JANUARY 12, 2013
Shows take place under the White Big Top At Olympic Village in Vancouver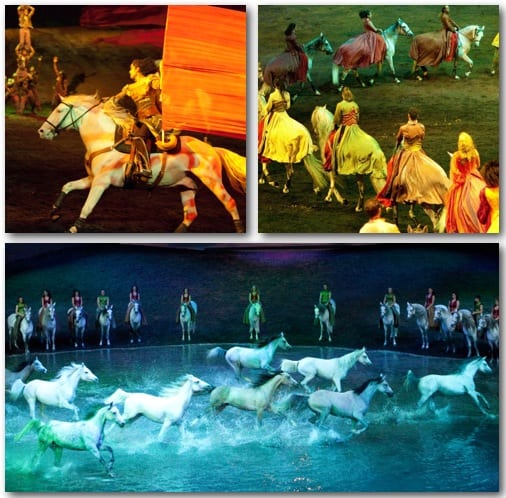 Ticket are priced from $29.50 to $139.50 + applicable taxes and fees. For a memorable evening, the Rendez-Vous package offers the best seats in the house, exquisite buffet-dinning before the show, open bar, deserts during intermission and an exclusive visit of the stable after the show. This unique VIP experience takes place in a luxurious tent alongside the White Big Top. The Rendez-Vous package prices range from $139.50 to $209.50 + applicable taxes and fees.
Headquartered in Montreal, Canada, Cavalia Inc. is an entertainment company that specializes in the creation, production and touring of innovative shows for audiences of all ages. Founded by Normand Latourelle, the company has an expertise in equestrian and performing arts, and is known for making the most of cutting-edge technology, multimedia and special effects, which allows for the creation of magical, unique, never-before-seen theatrical experiences. Cavalia, seen by some 4 million people across North America and Europe since its 2003 debut, celebrates the relationship between humans and horses by loosely recounting the evolution of this bond. Odysseo, which premiered in 2011, takes the next step, leading viewers on a great journey where horses and humans, together, discover some of the planet's most unforgettable landscapes. Follow Cavalia Inc.'s latest developments at www.twitter.com/cavalia or www.facebook.com/cavalia.